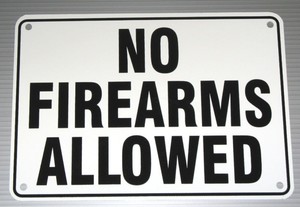 Some months ago late at night on my way home I stopped by at the VON'S Supermarket here in Las Vegas to pick up some groceries, just as I have been frequently doing off and on for the past 20 years carrying my firearm openly in its holster on my hip.
When leaving the store I noticed brand new signs at the entrance doors giving notice that "No Firearms Allowed"!
This is personally rather upsetting to me as I carry my firearm everywhere I go.
After Las Vegas' Casinos, CostCo and Starbucks now VON'S ("Safeway" in other states) Food & Drug Stores have apparently disallowed firearms in their stores.
For all its worth I will contact VON'S tomorrow and complain about now being an undesirable and unwelcome customer. I guess I will wind-up boycotting the supermarket chain along with other businesses who do not care about customers who exercise their second amendment rights.
That caused me of course to take my business elsewhere. Too bad, because the Supermarket was very conveniently located for me, just up the street corner.
About two weeks later

and a letter of complaint to their Corporate Office those geniuses at VON'S Management must have figured out that their consumers with firearms took their business and their money elsewhere and the signs were promptly removed again.
Naturally I started patronizing the Supermarket again. One night however, not too long after I re-patronized their store again and just when I was putting some unhealthy food into my cart, I was approached by one of VON'S Security Guards who asked me rather politely: "May I see your Blue Card please, Sir".
Those who know me already realize that this, no matter how politely, was not the right question to ask me. "No" I said, "you may not!" I answered with my all so charming voice and my heavy Bavarian accent. "I don't have to show you anything, who do you think you are?" I continued our friendly chat.
He then assured me that he is a Security Guard and entitled to see my Blue Card. I again told him no, and immediately ask for him to call Metro, which visibly he had no intention of doing. After repeatedly asking for Metro as I didn't feel to be harassed by him, he seemed to relent and asked me to the front of the store, where I then demanded to see the manager as well.
The Manager who knew me and greeted me by my name didn't understand the Security Guards action and intention either, who now changed his story to declare that there were signs posted at the entrance that there were "No Firearms Allowed".
Neither the Manager nor me could convince him that the signs had been taken down some weeks ago and so we followed him outside where he couldn't find the supposed signs. The Manager apologized to me and I went about my shopping business. The Security Guard somehow disappeared and Metro was never called.
Yet another victory for the peoples constitutional rights!
The latest word is now that Chipotle Restaurants are disallowing firearms as well.